Effective, Attractive Designs Improve Website Success
Website visitors decide to stay on a web page within seconds of landing. The site's design and related pieces, like navigation, functionality and messaging, influence that decision immensely. Some website designers fail to recognize the strategic and marketing components necessary for a successful project. To them, it's more important to showcase their prowess than to deliver a website that actually achieves a client's goals. Not at Web Asylum. To us, successful website development is not only a function of design, but also dependent on simple layout, easy usability, crisp navigation and attractive calls to action.
Web Design
Site Design & Development
Recurring Maintenance
Content Development
Programming
Database Design & Programming
Data Capture Forms
E-Commerce Applications
Content Management Tools
Identity
Logo Design
Print Collateral Design
Branding Champaigns
Multimedia
Interactive Flash Applications
Audio
Streaming video
Great Design Appeals, Positions, Integrates & Motivates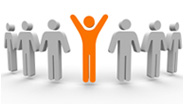 Positioning your organization and developing a brand can be made or broken by the design of your website and collateral pieces. Great design is not only attractive, but builds trust and improves the effectiveness of your message. Proper design anticipates the gender, age, education and other attributes of audience targets. We listen to our clients and build designs around their goals and audience. We provide multiple designs comps for your consideration, whether we're designing web pages, logos or print materials.
The user experience will dictate whether or not a prospect does what you want them to do, whether it's to buy, donate, register, collaborate or learn. Successful design integrates all necessary elements seamlessly and attractively. It's easier and more cost-effective than ever to manage your prospects, serve their needs and build real lifetime value using the technology of a well designed website.