by Kurt Scholle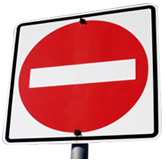 Successful websites make very few mistakes. You dramatically increase your potential by eliminating the mistakes your competitors make. We have observed these mistakes over more than 10 years of building websites and we work to eliminate them in the Strategy Plans we develop for our customers.
For more on how to avoid these mistakes and benefit from them, sign up below for our FREE 5 day course, delivered daily by E-Mail.
The 5 Biggest Mistakes
#1: Failure to define specific measurable goals
You must factor in all of the products and services you plan to offer to all prospective audiences. Plan on reasonable quotas then adjust your strategies accordingly. Many keys to the success of a website depend on setting specific measurable goals. Learn more on this in our FREE 5 day course.
#2: Lack of a marketing plan or effective execution
Arguably, the top 2 components of a successful sales plan are "filling your sales funnel" and "converting leads to sales." Marketing, whether online or offline, has a huge impact on filling your sales funnel. We'll outline a number of low and no-cost marketing ideas in our FREE 5 day course, many to increase website traffic.
#3: No "Call to Action"
You can't convert your prospects if you don't engage them. People will buy from you if they like you and especially if they trust you. Sometimes, the best way to sell to them is to take interim steps with a call to action. The Internet is a terrific way to begin an engagement. Our FREE 5 day course will give you plenty of ideas to begin profitable relationships with your prospects.
#4: Confusing navigation
Website visitors want almost instant gratification. One way to lose them is to make it difficult to find information. Having a poorly laid out site or using confusing terms kills conversions when visitors leave your site forever. Learn more in our FREE 5 day course.
#5: Lousy design
First impressions count. Just as the attire of a salesperson or how merchandise is displayed in a store affects your buying decision, your website appearance has a lot to do with how your brand in perceived. Your appearance helps defend your fee too. More thoughts on design in our FREE 5 day course!