WordPress Maintenance & Basic Security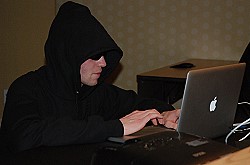 WordPress, WordPress Themes and Plugins make managing your website easier and more affordable. They are also responsible for most site outages, hacked sites and malware distribution.
Every day your site is down can cost you leads and money. Your site can be blacklisted if it is found to be distributing malware, which can destroy search rankings or prevent people from viewing it if they are running browser security programs.
Cleaning a hacked website starts at about $495 from most reputable WordPress security experts.
Wouldn't you prefer to avoid the potential liabilities and enjoy peace of mind?
WordPress Monitoring & Security
Hackers are attacking small business websites more often because they are easier to access than larger sites.
WebAsylum's WordPress Maintenance & Support Package* gives you peace of mind and helps prevent bad guys from accessing your site.
We begin by making it more difficult to access your site through the channels hackers use most often. By cloaking your login URL and making your username and password more secure, most hackers will move on to easier prey.
Other setup checks and updates…
Scan your website for known malware, blacklisting status and website errors and deliver a complete report.
Update WordPress versions, themes and plugins, especially those that pose security threats.
Recommend better plugin options, if warranted.
Evaluate your site's settings and revise as needed.
Remove any spam comments from your site's pages and posts, even if you don't have a blog.
Ongoing WordPress Maintenance & Support
If your website gets hacked, restoring it properly depends on having access to the files and databases from before the hack. We will make sure your site is reliably backed up on a DAILY basis and that the files are archived off-site and in your possession. If needed, FREE restoration from backups.**
We will help protect your website investment:
Provide critical monthly software updates performed manually by our support team to make sure your versions of WordPress, themes and plugins are up to date.
Verify that your plugins are compatible with your current versions of WordPress, it's theme and plugins.
Recommend new plugins for better usability and security.
24*7 Uptime Monitoring.
Moderate comments and remove spam.
Lockout releases.
Three support tickets per month.
Get started now! No term commitments. No setup fees.
No PayPal account? Pay using your credit or debit card in the lower right corner of the screen once you hit subscribe.*One website per package. Multi-site discounts are available.
**Does not include malware removal. Custom recovery services are available on a site-by-site basis.